DEAR COLLEAGUES
Business Technical College of Vocational Studies, Uzice, organizes Fifth International Conference titled
Science and higher education in function of sustainable development – SED 2012
The Conference will gather representatives of science, State, society, economy, media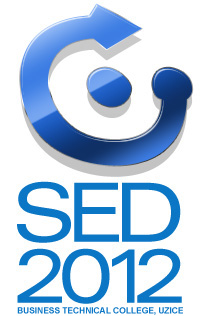 and others involved in science and high education development through various activities, especially in high education promotion in Zlatibor district.
General topics
Bearing in mind that sustainable social and economic development requires contemporary knowledge, the Conference will include scientific papers in the eight program areas:
Symposium
Session for information and communication technologies in education.
(Learn More)
The aim of the Conference is to highlight the role of science and higher education in function of sustainable development, to promote and popularize science, to improve international scientific exchange and cooperation, as well as to strengthen the bonds between our educational institution and other institutions of the society.
On behalf of the Organizing Committee I have the pleasure to invite You to take part at the 5th International Scientific Conference "Science And Higher Education In Function Of Sustainable Development - SED 2012" as an author or co-author of scientific paper, which will, we are assured, contribute to complete perception of the Conference topic.
The Conference will be held on 4th and 5th of October, 2012, at the Business Technical College of Vocational Studies in Uzice, Serbia.
For more information about Conference, please do not hesitate to contact us:
or visit our website:
http://sed.vpts.edu.rs
Kind regards!
Chairman of the Organizing Committee
Ljubica Dikovic, PhD
Director of Business Technical College of Vocational Studies, Uzice